Company
✚ General
What is The Business Reviews?
The Business Reviews is a local SEO tool aimed at improving positioning, online reputation and revenue by allowing you to get real reviews and offering useful management tools for local marketing and SEO. The Business Reviews is not a consulting firm, we offer services self-managed by the client providing tools that simplify to the minimum the effort required. Many agencies use our tools to manage local marketing for Google My Business accounts.
What is the difference between chat support with technicians (The Business reviews pack only) and customer support?
Customer service can help you with navigation, provide information and assist you with payment systems. Support by technicians is a premium customer service by only qualified personnel with a minimum education of "Computer Engineer". a degree awarded and recognised by the competent university, with a certified qualification. Doubts and questions are answered without limit through our email and referred to the experts.
Where can I download my invoice?
All orders are invoiced and you can get your invoice from the corresponding section of your dashboard. In order for the system to have your invoice available, you must enter or provide us with the following details by contact: Company Name, VAT Number, Address. In this link you can see how to download your invoice
Do you have telephone assistance?
We have chat and email support. In addition, you can consult with our engineers in case you have the superior pack. In order to maintain the price of our service it is not possible to offer telephone assistance, in case you want consulting services or assistance you can contact to consult the prices with our partner consultancy, you can consult the services and prices on their website.
✚ Reviews
What guarantee do they have?
All the reviews you buy have one year warranty since its publication. If for any reason the review is not published correctly or is hidden, the review will be replaced.

Who writes

write the reviews?

You as a business write the reviews. You have complete control over the text, you choose the punctuation and the day it is published. You can see its status: Unpublished, Published or Confirmed, also which user published it and when.
Where can I send the publications?
After attaching your profile or profiles and from the same main panel you can add your publications by clicking on "+ New Business", you will see the menu shown below.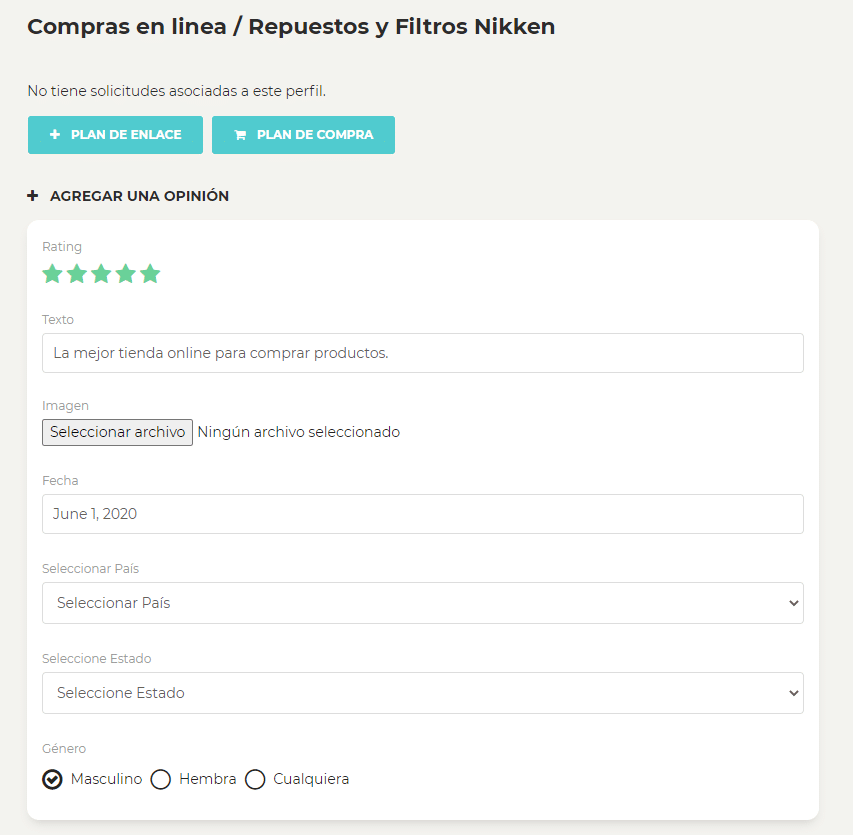 How can I keep track of published and scheduled publications?
When you log in to your account, you will be taken to your business section. Perform the same procedure of creating reviews. There you will be able to see the history of all your publications, both scheduled and already published. In that section you will be able to see the date and the user who published it.

I have several locations, can I add multiple locations to the same account?
Yes, after you create your account, you can add as many profiles as you want. Subsequently you will be able to contract the package or credits. You can purchase your pack or credits for each individual profile or split it between the added profiles.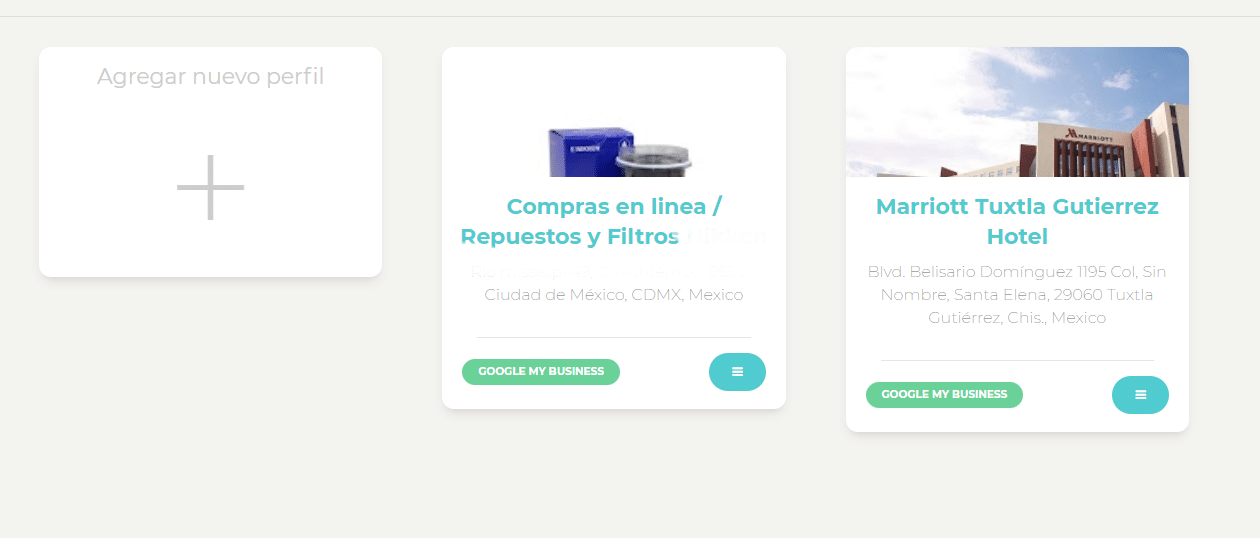 How to upgrade the plan?
In the section on the left side menu in the My Orders section, you can see the history of your purchases. You will have to click on increase plan, on the right button next to the invoice button.
Difference between packages and
credits

Credits never expire. While the package reviews are due the following month and are paid month to month. (We recommend scheduling reviews with different dates to use the package, avoiding scheduling more than 3 on the same date.)
What to buy package or credits?
You choose what suits you. You can cancel at any time. The purchase options are with paypal or stripe. Try the first review for free.
Do you have non-subscription options?
Our packages include tools that will help you position and outperform your competition and are offered with our subscription for free so the price does not change. In any case, if you want to make only individual reviews this is possible, for this you only have toregister in ourpanel and access the "Shop" section from where you can purchase reviews individually. Despite this, we always recommend the subscription as it has no permanence and offers many additional tools.
Can I get free reviews?
Yes, since our system is a marketplace between companies and users of Maps, you can create your account as "both", reviewer and company. In order to get free reviews you just need to use your profiles to get enough credits to start posting on your own.
Can Google penalize my profile for buying reviews on Thebusinessreviews?
Reviews are posted by real users, so there is no reason for Google to take action against your profile. These reviews are exactly the same as those posted by your regular customers so it is 100% safe to buy reviews on The Business Reviews.
Are the users posting reviews from the same area as my business?
When publishing reviews, profiles are selected that match the location of your business so that the reviews have a higher value for Google.
How does geolocation work?
Currently the implemented system is called "best effort" which means that during the first 24 hours of scheduling a review it will try to find a user profile that fits the geolocation indicated when adding the review in the most accurate way. If this is not possible, a profile from the same country will be searched and in the last case the geolocation will be ignored. It is necessary to take into account that the accounts are geolocated according to the information entered by the "reviewers" so it is subject to what is set by these users. It will not always and in all cases be possible for it to be geolocated. It is also necessary to take into account that the majority of users are of Spanish-speaking origin.
Are you a Local Guides user?
A significant percentage of users are Local Guides of at least level 4. We encourage our users to improve their Local Guide level, so if the account that posted a review on your profile is not a Local Guide at the moment, in a few days or weeks they may increase their level and become a Local Guide. There is no assurance as to whether or not you will get local guides.
Is it possible that reviews are hidden?
This is possible because there are automatic mechanisms that can hide publications, no one can ensure that they stay 100%.
Can I post pictures next to the reviews?
Yes, when you add your review you will be able to add images to it. Please note that Google's algorithm may filter the image for multiple reasons and the image may not appear when a user posts it, so the publication of the image is not guaranteed.

Can users delete posts?
We have sufficient mechanisms in place to ensure permanence and replacement in the event that a user deletes a post. All users must meet strict requirements, their account could be closed immediately and payments reclaimed if it is found that the deletion was deliberate and voluntary. In addition, we have an extensive 6-month warranty that protects you in these cases.
If you have any questions or doubts, please contact us.
¡Haz clic para puntuar esta entrada!