How Reliable Are Online Reviews Versus Personal Recommendations
For a business, word of mouth recommendations are a very important factor for your reputation, but how much credibility do reviews have compared to personal recommendations?
What the data show
Consumers were asked how much they trust online reviews compared to recommendations from friends, family, and colleagues. 76% trust online reviews as much as recommendations from family and friends, a slight decrease from 78% last year.
89% of people aged 34-54 trust online recommendations as much as personal recommendations. 81% of 18-34 year-olds said they trust reviews.
Checking online reviews
Checking reviews about a place, a service or a product is becoming more common every day. 91% of consumers tend to do so and it is increasing. This is because knowing the opinion of someone who has already accessed that product or service makes 70% of consumers feel more confident about accessing a purchase or service.
Potential customers identify themselves with the reviews they consult when they are made by people who have already consumed a product or bought a service and consider them more reliable than official analyzes. Statistics show that 54% of consumers visit a business website after reading a positive review.
Recent reviews are more reliable
An important factor is how old your reviews are: 73% of potential customers consider reviews older than 3 months to be irrelevant, so make sure your business reviews are constantly updated.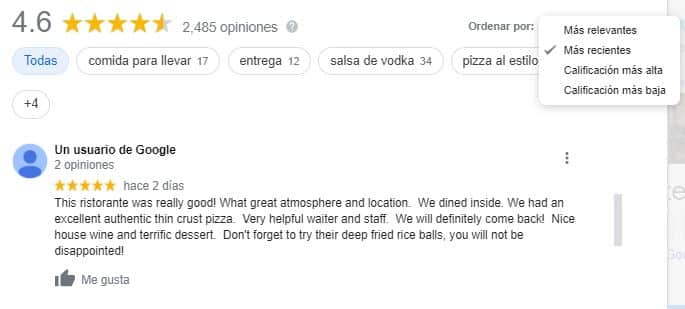 We can conclude that online reviews are as reliable as a personal recommendation, and without a doubt they are a very useful tool to give credibility and positioning to your business. The data indicates that 96% of customers have looked for a business near their home and 91% will consult opinions.
That is why companies invest in marketing strategies focused on improving their digital reputation that will increase their sales, both in new customers and in recurring customers.
Don't lose any more customers! Reach out to the experts at thebusiness.reviews and Google yourself against the competition with real positive reviews and top ratings.
¡Haz clic para puntuar esta entrada!